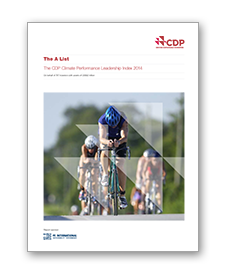 Apple, BMW, LG, HP, Coca-Cola, and Walmart are among the 187 companies cited by non-profit Carbon Disclosure Project for doing the most to combat climate change. These green warriors also outperform the Bloomberg World Index. Five Canadian companies made this elite group. I find out how their stock prices compare to the S&P/TSX Index.
The recently released CDP 2014 report is covered by media around the world but, sadly, passed by all major Canadian publications. I find informative coverage by Bloomberg, Forbes, and CNBC. A few key quotes:
Bloomberg: "If acting on climate change hurts the economy, as the American Coal Council's talking points suggest, it's a lesson lost on some of the world's most successful companies. Stocks of companies that take climate change seriously beat the wider market by almost 10 percent …"
Forbes: "True leaders in the field are using their sustainability information to become stronger businesses and to make better decisions based on what they have learned. They understand that analysing, reporting and benchmarking the data they have gathered can help to boost revenues, strengthen brands, cut costs and manage risks."
CNBC: "It's the companies that are not yet able to report that are telling their investors 'we're not prepared for this issue and we may be exposed to this risk and we're probably not gaining on the opportunity side.'"
What is notable is how these companies who invest heavily in combating climate change are doing for their shareholders. As I wrote in The State of Impact Investing in 2013, "some investors and investment managers think impact investing means giving up profits and from a fiduciary point of view they are not allowed to do that." But time after time, data show green companies actually delivered market-beating financial returns. (Impact Investing means investing in companies that do social and environmental good in addition to generating financial return.)
The stock prices of global green business leaders beat the market. The 187 CDP "A List" companies' stock prices as a group outperformed the Bloomberg World Index by 9.6% in the four year period from 2010, according to CDP. The A-Listers' stocks went up 37.53% while the Bloomberg World Index went up 34.24% in the same period.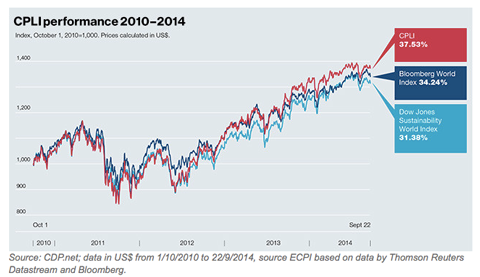 When a similar analysis was done by the CDP in 2011 for the period 2005 to 2011, the results were even more dramatic. As I wrote in CDP Canada 2011: Key Highlights, "Businesses who lead in carbon performance delivered twice the financial return compared to their peers. Companies in the Carbon Disclosure Leadership Index (CDLI) and Carbon Performance Leadership Index (CPLI) delivered approximately double the total return of Global 500 companies between January 2005 and May 2011."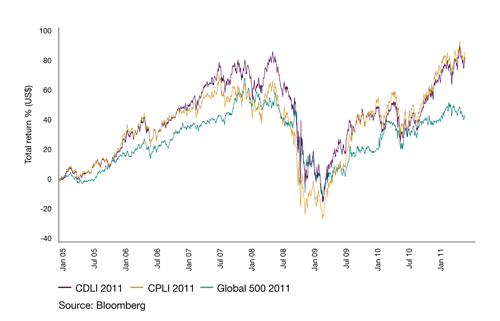 How did the Canadian green business leaders do? The five Canadian companies that made the elite CDP 2014 "A List" group are TD Bank, Bombardier, TransCanada, Teck Resources, and CN Railway. As a Canadian investor, I am curious how these five Canadian green leaders perform as compared to the S&P/TSX Composite Index. So I did some analysis. During the same four year period used in CDP's global analysis, the S&P/TSX index went up 21.5%. By my calculation, the five Canadian A List companies' stock prices as a group went up 33.6%!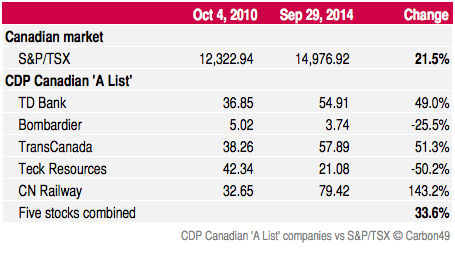 If you put $100 into these five Canadian green leaders in 2010 you would have $133.6 now as compared to just $121.5 if your money was in the TSX in general. A 56% increase in gain over the market. This is an incredible result! (It would be interesting to follow how the stocks of the newly minted CDP "A List" companies change going forward. As I investigated in How Third-Party CSR Ratings Impact Share Price, the impact is not always in ways expected.)
Time and again, in Canada and worldwide, companies that do the most in combating climate change have delivered financial returns that outperformed the markets. Fund managers and investors take note. The notion that progressive green companies must give up returns for environmental good is just plain wrong. It's wrong when we look at the global market in the last four years: green leaders outperformed the market by 9.6%. It's wrong when we looked at it from 2005 to 2011: green leaders delivered twice the financial return. It's wrong in the Canadian market in the last four years: green leaders outperformed the market by 56%.
How could green companies devoting resources to fight climate change deliver better financial returns than non-green ones? Is it because they use their sustainability information to make better decisions to cut costs and manage risks as Forbes reported? I don't know. Other studies (e.g. Waddock, Orlitzky, Schmidt, Rynes) have also found that a company's social performance and financial performance are linked. Whatever the reasons, the fact is green leaders frequently outperformed the markets. If your institutional or individual investment clients doubt you, show them these real world results.
Update: Errors in Canadian stock analysis are corrected.