The Southcore Financial Centre is a showcase of mixed-use sustainable development in Toronto's financial district. The three new interconnected towers—PricewaterhouseCoopers Tower, Bremner Tower, Delta Toronto Hotel—incorporate sustainability best practices in their exterior glazing systems, rainwater harvesting, and deep lake thermal cooling. We look into their special features and how KPMB Architects brought all these together.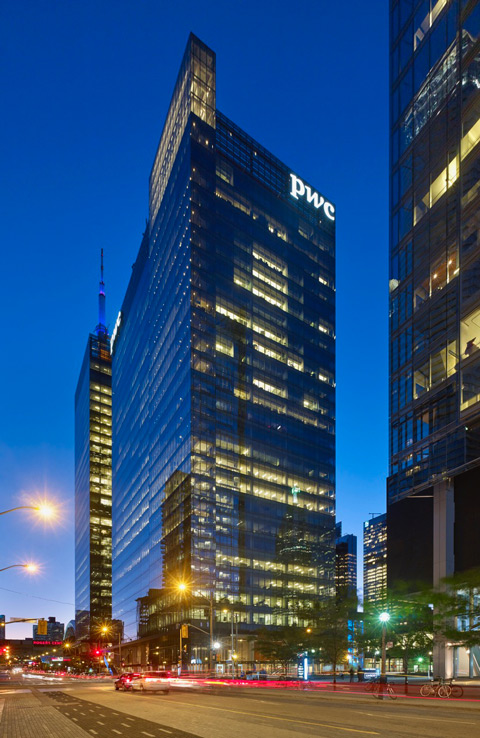 The Southcore Financial Centre is located in downtown Toronto, surrounding by Union Station, Air Canada Centre, Telus Tower, and CN Tower. The PricewaterhouseCoopers Tower is a 671,000 square foot, 26-storey tower and the Bremner Tower is a 700,000 square foot, 30-storey tower. The design responds to the City of Toronto's district planning strategy to create a new gateway to the downtown financial district and to increase density with a mix of commercial and corporate uses.
The two office towers and Delta Hotel are unified at the street level with an interconnected three-storey podium. The roof of the podium features a publicly-accessible urban forest planted as a boreal environment with indigenous species. Both office towers include three levels of below-grade parking and bicycle storage with adjacent change rooms and showers. The ground and second levels of the podium include retail services. (Located next to the Southcore Financial Centre is the new RBC Headquarters. See our coverage in Oxford Properties Building New RBC Headquarters.)
Glass panels and lobby design
The two office towers are sited to act as a new gateway from the south to downtown Toronto's financial centre. The oblong rectangularity of each tower is characterized by a rigorous simplicity of geometry and elegant proportion. The building envelopes are a high-performance glazing system with maximum-scaled glass panels, which reduce the number of mullions and exterior metal elements.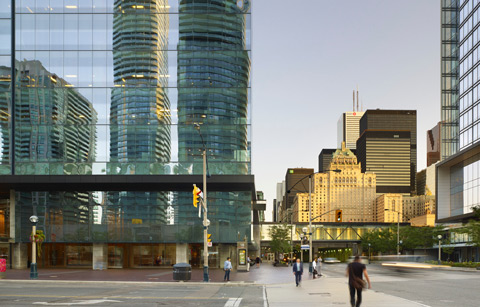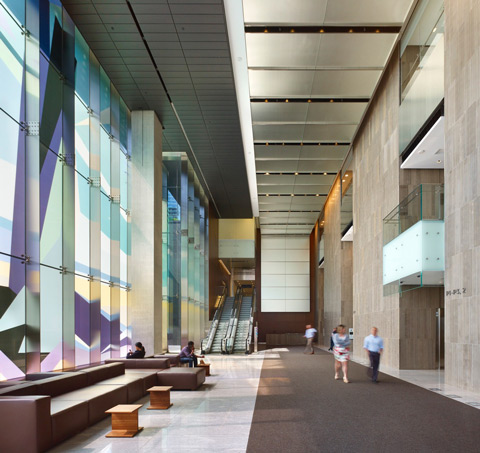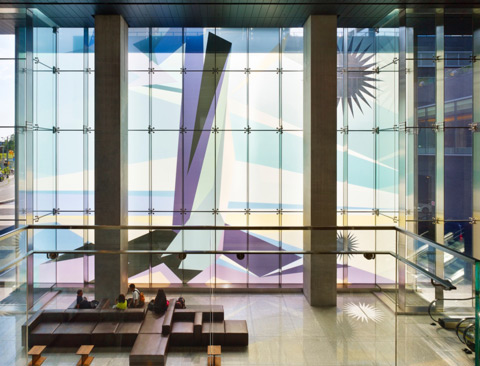 This strategy achieves three things: minimizes thermal bridging conditions, optimizes daylight transmission and expresses a purity of form that appears prismatic. The lobby of each tower is a 16-metre high light-filled space, anchored at the core by elevator banks clad in Ontario limestone. The lobbies of both towers have escalators leading to the second floor to provide direct access to a sheltered pedestrian route to downtown Toronto's Union Station.
A monumental cylindrical glass and stone exterior stair located at the centre of the south elevation of the Bremner Tower provides access to the public garden terrace located on the second and third floor terraces of the podium.
District planning
The design fulfills the district planning strategy to use architecture as a gateway condition and to achieve a vibrant mix of commercial and residential uses. Committee of adjustment and site plan approval applications were prepared by a multi-disciplinary team of consultants under the leadership of KPMB Architects.
Successful negotiations were conducted with CN Rail, GO Transit, and other stakeholders to address concerns for soil stability during construction – as well as with the City of Toronto for making connections to the PATH system and the West York Teamway. The team also successfully negotiated an alternative solution to a requirement for grade level outdoor public space by convincing the City of Toronto to provide this space at the second level in order to accommodate service access below.
Rain water collection, deep lake cooling, daylight harvesting
Project choices considered energy efficiency, creating comfortable working conditions to reduce the cost of running technological systems.
Certified LEED SC Gold, the buildings feature state-of-the-art operating and life safety systems including: rainwater collection system, Enwave's deep lake central cooling supplemented by a thermal storage system, 18-inch raised floors, and enhanced indoor air quality.
Thermal storage tanks are incorporated into the lowest level of the building where they are used as a cooling source during daytime hours and recharged at night from the Enwave Deep Lake Cooling system when demand and rates are reduced.
The automated roller shading systems are controlled by a computer using a 3D model of the district to anticipate shade masking from adjacent buildings and selectively leaving blinds open where the sun is obscured in order to optimize daylight harvesting. Rainwater harvesting and an oversize cistern provide both sediment interception and a source of grey water for toilet flushing and irrigation to green roof vegetation during drought conditions.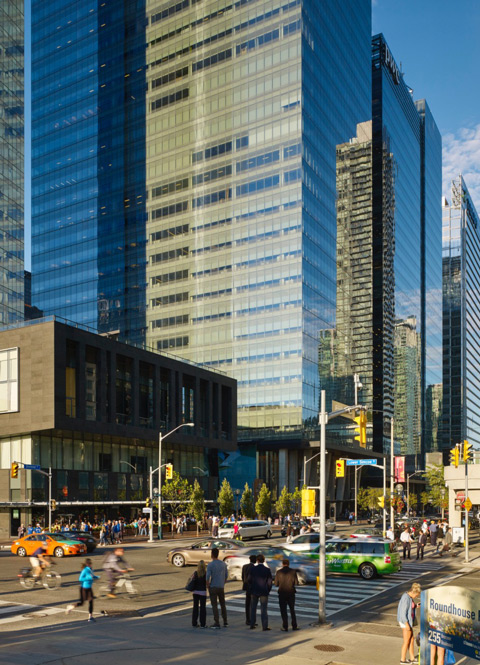 Office interior design
The tower design is conceived around creating a highly supportive and flexible space for work consistent with the shift from conventional compartmentalized approaches to office organization to open, connected workplace design where access to daylight, vistas, and good ventilation are fundamental.
With no columns interrupting the floor plate between the core and the perimeter, the space permits maximum latitude for accommodation of occupants' needs. Floor to ceiling glazing maximizes views and permits daylight deep into floorplate. The raised access floor system maximizes flexibility of service delivery as well as low velocity ductless air distribution employing the displacement principle.
The design is attractive to a broad spectrum of potential tenants, from large corporations seeking to align values and commitment to sustainable practices, to smaller tenants seeking well-serviced conventional office environments in an accessible, downtown location. (See also: Greening Offices Without Adding to Landfill)
Designed to meet the highest quality standards and expectations for high-rise office space, the project conforms to a tight financial pro-forma while creating signature architecture. The building's elegant skin takes the capabilities of unitized curtain wall glazing to their limits by using the largest feasible lite size to reduce joints in the exterior skin and enhance the play of reflected and transmitted light. This approach reduces aluminum framing joinery, thereby lowering the cost of production while cutting heat transmission at frame members to enhance thermal performance.
The restraint of the massing and skin complements the vegetated roof and terrace areas of the project, providing a stage-like platform and backdrop to showcase the urban forest garden at the third floor terrace where a sample of St. Lawrence Lowland forest ecology will be recreated in full view of the towers of the financial district to the north.
This article was originally published in Green Building + Architecture Magazine. All photos by Tom Arban.