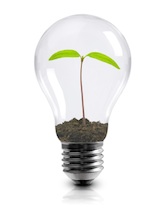 You are an entrepreneur with a fantastic idea for a green startup. You go to the bank for funding but they turn you down. What do you do? Fear not, green warriors! We will show you five non-traditional funding sources for social and environmental startups, including crowd funding and peer-to-peer lending, and go through some of these funding platforms and success stories from the U.S. and Canada.
While consumers are beginning to embrace environmentally sustainable products and services, many banks remain skeptical, viewing them as either a fad or too risky due to the perceived niche nature of their markets. In other words, traditional lenders are not always as forward-thinking as entrepreneurs or the market at large. The good news, though, is that there are a lot of not-so-obvious non-traditional ways to get your green startup up and running. Let's go through five non-traditional options when you are looking for funding for your earth-conscious business.
Crowd Funding
The basic idea behind crowd funding is this: people with ideas for projects—including bushiness startups—join a crowd funding website and advertise their idea in the hopes that people will donate funds to get the project up and running. There are several examples of green startups got off the ground using crowd funding sites, such as FoodCycle, which repurposes food waste into nutritious meals for those in need. The great thing about crowd funding is that you can set a goal of any dollar amount you choose, then keep advertising until you get the funds you need from donors.
While Kickstarter (US, Canada) is probably the best-known crowd funding site out there today, there are many other options for a person with a green startup up her sleeve. For example, Catalyst is a Canadian crowdfunding platform focused on social innovation and social change projects that benefit people and planet. Another good option to check out is An Idea Nation, which is also focused on crowd funding social and environmental entrepreneurial projects.
Peer-to-Peer Lending
Another non-traditional financing option that has become popular in recent years is peer-to-peer lending. It essentially connects those who need money with those who have money. Investors put up funding which is lent to borrowers, who repay with interest. Peer-to-peer lending is different from borrowing from a traditional bank because, while a credit check is required and some paperwork must be filed, loans are granted much more liberally. IOU Central is a popular Canadian peer-to-peer lending site with a good track record, so it's worth checking out. Theoretically, IOU Central will lend out up to $100,000, but for a startup that can't yet prove its cash flow, expect to be able to borrow somewhere in the range of $20,000-$50,000.
Grants
Another route to getting your green startup up and running is applying for grants. While the U.S. government tends to grant money generously to green business startups through various government agencies, obtaining federal government grants in Canada can be tricky. If you're a young entrepreneur and live in Atlantic Canada, a good place to start would be the Seed Capital ConneXion Program for Young Entrepreneurs. In addition to providing funds, they also provide new business people with mentoring and other resources.
Grants might also be available in your particular province, or through one of the many environmentally-focused industry associations in Canada. A directory of these organizations can be found on the website GoodWork Canada. Usually, grants funds are relatively limited … think $1,000-$10,000. But there's always the possibility to obtain more than one grant.
Contests
Every year, there are a number of contests for startup funds for green businesses, so consider entering as many as possible to get financing for your green idea. Before you dismiss contest funds as a pie-in-the-sky dream, know that several successful green startups, such as TerraCycle, got their initial funding from winning a contest. Change Makers is an organization that offers both grant funding and contests for green startups. Take a look for more information about entering your green startup in a funding contest.
Venture Capitalism
Green startups have attracted the attention of many venture capitalists in recent years, and many now see green businesses as the hot new investment. Venture capitalism may be the way to go if you think your green startup will need big bucks—upwards of $100,000—as venture capitalists tend to have more funds at their disposal than government agencies or other organizations. Websites such as Green VC connect investors with entrepreneurs and are exclusively focused on green businesses, so be sure to check them out for your green startup.
As you can see there are many funding options for green projects besides the banks. If you know of other funding resources, be sure to share in the comments section. If you have experience with these alternative funding options, please share your stories.