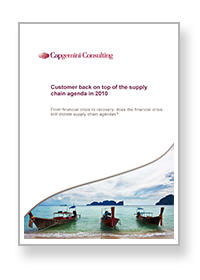 According to a survey of Canadian and global supply chain managers by Capgemini, a leading international consulting firm, sustainability has moved up from no. 3 in 2009 to no. 2 in 2010 as the top business challenges. 56% of companies now consider sustainability a key issue, up sharply from 34% from one year ago.
Reasons for the rise of sustainability as a top business challenge include the following: (a) preparation for future regulation, improved stakeholder relations, employee engagement and brand value in the market, (b) cost control and reduction through more efficient, less wasteful operation, and (c) decreased environmental footprint.
Sustainability related projects, however, remain at the same no. 9 rank as in 2009, with just 34% of companies reporting them among their most important supply chain projects. This is surprising given that an estimated 80% of many companies' total environmental footprint is generated by their supply chain.
As cited in Capgemini's Supply Chain Agenda 2010 study and the report Customer Back On Top Of The Supply Chain Agenda In 2010 (PDF, registration may be required), the reasons for the low ranking are:
Sustainability ambition exists only at the top level of the company.
Companies have problems defining concrete projects that embody their sustainability strategy.
Here's a practical approach to overcoming these issues and implementing sustainable purchasing, to save your company money while decreasing its enviromental footprint.
The Key Success Factors are:
Communicate — Management needs to advise all functions, including purchasing, of their interest in improving sustainability.
Keep it Simple — If you have an overall sustainability strategy, it will provide guidance. If not, purchasing can work with vendors to establish baselines and understand your product's or service's environmental impact and carbon footprint. Detailed life cycle analyses provide insights, but aren't necessary to go after the low hanging fruit of improving efficiency in an environmentally beneficial way.
Start Now — Global warming aside, small steps now can yield immediate, tangible benefits.
Empower Employees — If equipped with the right tools, front line employees can be a great source of innovation. This applies equally to sustainability, and is especially true for those in purchasing.
Empower Yourself, Regardless of Your Role — Even without a specific mandate from management, purchasing can take steps to improve sustainability. The caveat is that if higher costs do result, management will have to approve that trade-off.
Incorporate Sustainability into Decision Making Criteria — This can significantly reduce a company's environmental footprint without adding cost or time to the process. Larger companies using sophisticated tools such as lean/value approaches or Six Sigma can easily integrate sustainability principles and criteria into them. A simpler tool, based on the rule that the scope for cost reduction is 75% during design and only 25% after a design is finalized, is to broaden the familiar 3Rs to a more powerful 4R approach — Rethink, Reduce, Reuse, Recycle.
This simple example applies the 4Rs to packaging, specifically, a corrugated 'gaylord' box on a wooden pallet costing approximately $200. Potential improvements are identified, starting with Recycle at the bottom of the hierarchy, where a traditional purchasing department might begin. As initiatives go up the hierarchy, the cost reduction, sustainability impact and challenges for implementation usually increase.
Recycle:
Separate and recycle the corrugated box.
Change grades of corrugated to improve its recycling value.
Switch from dumpsters to balers, to decrease the transportation cost.
Hold bales of consistent grades of corrugated until the minimum requirements for direct pick up by a buyer are met, to turn it into a revenue generator.
Hold the pallet for pick up by a pallet reconditioning company, usually at no cost.
Reuse:
Check if incoming packaging is the same size needed for outbound shipments.
Have the vendor assess changing to sizes that are required for outbound shipments.
Ship them back to the supplier, if logistically feasible, and negotiate a cost reduction.
Reduce:
Optimize the packaging specification – perhaps lighter weight material could be used.
Specify recycled content for both the pallet and corrugated.
Change to a flexible shipping sack, which folds up for return to the shipper. At 10 boxes per week, the cost reduction would be $2000, likely resulting in a payback of a few months.
Rethink:
If volume is high, change to bulk delivery to eliminate packaging and lower costs by 20 to 40%.
In addition to the cost impact of these initiatives the sustainability impact would also be calculated and communicated in easily understood terms, such as trees saved.
In conclusion, beyond the reasons for the rise of sustainability listed above, the benefits of pursuing it immediately within purchasing, without waiting for completion of a comprehensive sustainability program are:
Quick results with successes that can be celebrated to build support for going green.
It allows your company to 'walk the walk' before doing too much 'talking'. This will improve credibility with all stakeholders, including employees, and minimizes the risk of being perceived as greenwashing.
Start using sustainability criteria within purchasing to reduce costs and environmental footprint now. Planting these seeds will set the groundwork for a comprehensive sustainability program that will drive your company's growth. [Editor: Harvard Business Review recently called sustainability the next business megatrend. Also see previous post on building upside and managing downside in supply chain initiatives.]