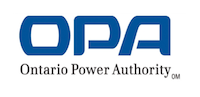 Ontario, the largest province in Canada, announced the approval of 184 renewable energy projects worth $8 billion under their Feed-In Tariff program. Widely covered by the press (Globe & Mail, CBC, Toronto Star, even the New York Times) and the blogosphere, the announcement of the first wave of projects was greeted by climate change action supporters as an important step away from coal energy reliance, but decried by some energy-heavy industries for the impending rise in energy prices.
If you operate a business in Ontario, what should you do? I think in addition to looking at this as an opportunity to make money while being socially responsible, you could also consider it as a chance to diversify your energy mix and reduce your future energy pricing risks.
I will come back to this point later. First, let me recap on what the program is about. The Feed-In Tariff Program under the Ontario Green Energy Act was launched in September 2009 and began accepting applications from businesses, organizations, and individuals in October 2009.
Ontario Hydro One will buy the clean energy generated from the program participants at rates of up to 80 cents/kWh. This is much higher than the rates Ontario Hydro One sell their energy to the public at approximately 9 cents/kWh. The idea is to provide financial incentives for private businesses and communities to invest in renewable energy generation.
As stated in my earlier post, thousands have already applied for their renewable energy projects on solar, wind, and other renewable sources. Most of them are waiting for approval.
You can see the full list of program applicants broken down in various ways at Ontario Power Authority's website. They have also put all project applicants onto an interactive Google map (a snapshot is shown below).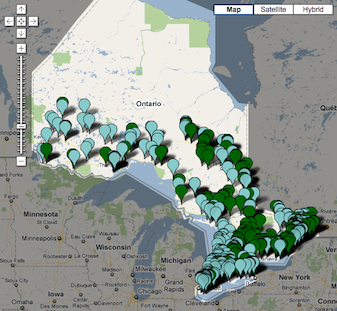 The Ontario Solar Network has another interactive map that shows just the solar rooftop projects in the Greater Toronto Area (a snapshot is shown below).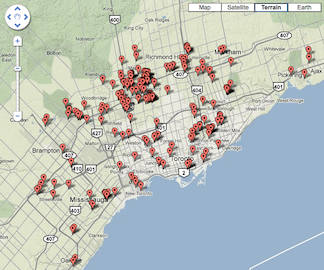 What's the financial impact? Three groups of players are involved:
The private businesses and communities with renewable energy projects under the program can expect to make a profit selling the energy into the grid at the enriched rates offered by the program. That's a good thing and that's the intent of the program: to provide incentives for private groups to build up clean energy facilities.
Ontario Hydro One will buy energy from the program participants at the enriched rates. In order to support these payments, Hydro One will increase the overall energy rates for all users.
Other businesses and the general public will face increased energy rates as a result of this program. How big is the increase? Together with the upcoming harmonized sales tax, your power bill may increase between 25 to 30%, as estimated by some analysts.
If you are a business in Ontario, what should you do? Some will see the rise in energy rates resulting from this program as a burden. As the electricity costs rise, it will be harder to be competitive.
But the fact is, with or without this program, the era of cheap energy from burning fossil fuels is coming to an end. Energy costs will rise in the coming years and will continue to rise in the coming decades. The good news is it will broadly affect most businesses and not just yours. However, those businesses who make smart moves along the way will do better than those who just reminisce the good old days.
Dr. Mergen Reddy from Hatch Management Consulting said in a gathering at the Rotman School of Business that one of the reasons to participate in the Feed-In Tariff program is to diversify your energy mix and reduce your energy pricing risks. I think it's a good point. Integrating renewable energy into your energy mix is like diversifying your portfolio. It could help reduce your risks against pricing movement as the world begins its shift towards renewable energies.
Hatch Management Consulting released a report called Unlocking Value from the Feed-in Tariff in the Ontario Green Energy Act (PDF). It is an in-depth analysis into the business case, integration issues, and project execution issues related to the program from a participant's point of view. They found that effectively managing the structural and project barriers are important. But if done right, it is possible to unlock significant value from the program.
How much value? Well, in many cases, the payback periods can be long. But converted to net present value, Hatch estimates that renewable generators who take part in the Ontario Feed-In Tariff program could create $3 to $5 billion of value in total. These are big numbers.
One critical element of these projects is having suitable sites, particularly for solar and wind projects. If you already have a site that is potentially suitable, you should consider discussing this with a technology provider. (I know of a few, if referral is needed.) If deemed suitable, a technology provider could bring in the experience and technological know how for your project.
If you have applied to the program or are planning to apply to the program, please share your experience below.