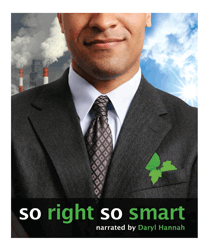 Canadian companies such as Talisman Energy are showing leadership in corporate social responsibility on the global stage. In a globalized world, it is important for companies that are operating in other countries or those seeking to establish international subsidiaries to act responsibly and furnish reports to prove the credibility.
It was 7 pm on August 24th at the London Tap House in Toronto when a tornado alert was declared. Amidst the continuous rain and lightning at the CN tower, a group of Canadian sustainability thought leaders was paying their tributes to a world legend and the father of sustainability, Ray Anderson. The feature documentary of the evening So Right So Smart demonstrates the success of businesses that took positive steps toward a sustainable future. Canadian publications such as Corporate Knights and roundtables in Toronto Sustainability Speaker Series are also examples of leadership in corporate social responsibility (CSR).
A recent article from the New York based magazine Corporate Secretary shows how Canada is leading global interest in CSR. 'When it comes to CSR, Canadian companies are the leaders in this field', says Deputy Editor Aarti Maharaj.
CSR Ranking
The list of top 50 socially responsible corporations of 2010 by Jantzi Sustainalytics and Macleans magazine shows Canadian companies are well positioned when it comes to effective CSR practices. The study rated companies on their performance across environmental, social and governance (ESG) indicators and across areas such as community impact, supply chain and treatment of employees.
Government Can Do More
According to Aaron Dhir, an associate professor at Osgoode Hall Law School, 'the Standing Committee on Foreign Affairs and International Trade (SCFAIT) report called for the Canadian government to, among other things, enhance incentives for fostering corporate compliance with international human rights norms and improve or create tools for monitoring corporate operations in the developing world.'
But Dhir notes that 'the Canadian government tabled a response in October 2005 that neglected to adopt many of the SCFAIT report's recommendations,' though it did 'lead to a set of National Roundtables on CSR in the extractive sector'. The Government can surely initiate more actions towards catalyzing CSR initiatives in businesses.
Still Ahead of the US
The failure in passing the American Clean Energy and Security Act is an example of US lagging behind Canada due to its poor support of sustainability legislation in Washington. Heather Lang, Jantzi Sustainalytics' director of research for North America, adds that 'Canadian companies generally lead their US peers when it comes to issues surrounding employee relations and the environment'.
Success Story – Talisman Energy
The Corporate Secretary article highlights a turnaround success story from Canadian oil and gas producer Talisman Energy in their venture in Sudan.
The shareholder activists in Sudan believed that oil production from the Greater Nile Petroleum Operating Company (GNPOC) project was providing financing that prolonged Sudan's civil war. Although Talisman tried to address the issue by voluntarily initiating annual corporate responsibility reports and openly complying with the International Code of Ethics for Canadian Business, the company was sued with a genocide lawsuit.
In a statement, Talisman president and CEO Jim Buckee announced a deal to sell its interest in GNPOC, stating 'Shareholders were tired of continually having to monitor and analyze events relating to Sudan' as the major reason. Buckee also used the sale of the assets to establish Talisman's commitment to CSR. (See Investors Increasingly Concerned With Climate Change Risks)
The genocide lawsuit against Talisman was dismissed in October 2009. While the company lost its business in Sudan, it has been able to close a number of successful mergers and acquisitions in order to gain business in other countries. Some of the deals were aided by the company's solid CSR record.
From examples like Talisman, it is clear that CSR should be moved to the top of the boardroom agenda because it leads to effective employee engagement and with that comes an ethical corporate culture. 'Talisman shows us that even under very difficult circumstances, effective management of CSR can be achievable and can facilitate international business objectives in a profitable way, if integrated into corporate strategy and governance,' says Michael Torrance, a lawyer at Norton Rose. 'Talisman has become a world leader in CSR as a direct result of its experiences in Sudan,' Torrance concludes.
Other Canadian mining firms that have been actively taking sustainability initiatives include Argex Mining, Rencore Resources, and Shore Gold.
Learning
In this day and age of globalization, it is important for companies that are operating in other countries or those seeking to establish international subsidiaries to act responsibly and furnish reports to prove the credibility. (See CBSR 2011 summit 'Canadian Business as a Global Citizen'.)
'If the highly-regulated mining industry can do it, I am pretty sure other companies will take heed and improve their CSR practices all over the US,' says Maharaj. 'Essentially, the purpose of this article is to educate our readers on how Canadian companies are leading in their ESG performance.'
We should be proud of the Canadian companies that have created interest and leadership for CSR across the globe. Would you like to share similar Canadian global success stories in CSR with us?
Aaron Dhir's quote was update on September 2, 2011.