Maclean's magazine "The Year in Pictures 2016" special collector's edition contains a seven-page special section on climate change. In the article Insights on Corporate Sustainability I was interviewed on my consulting experiences driving sustainability projects. I also share a few tips on how to more effectively turn corporate green initiatives into profits.
In the short interview article I cited some best practice examples by Walmart Canada, Unilever Canada, TD Bank, Coca-Cola Canada, Toyota Canada, and HP Canada. I noted that one hidden benefit from sustainability is the value from a more engaged staff:
Employee engagement through sustainability is an area many businesses overlook. LoyaltyOne engaged their staff while they built a solar rooftop at their call center. Through smart engagement strategies their turnover rate dropped dramatically by 12 percent in one year. This improvement translates to human resource savings estimated in the range of $10 million per year, a far greater impact than energy savings or even profits from new products.
The full extended interview is also posted by Media Planet, you can read it here. The other articles in the special Maclean's issue are:
Greening Your Home and Business by NHL star Andrew Ference
Using Energy Efficiently in the Fight Against Climate Change by Minister of Natural Resources Jim Carr
Go West to See the Future of Green Buildings by Karen Tam Wu, Pembina Institute
Green Leadership Growing Among Canadian Businesses by D.F. McCourt
Going Green4Good is About More Than the Environment by Chris Metler
Reid's Heritage Homes on Constructing Residential to the Net-Zero Standard by Chris Metler
Tips for Greening Your Home by HGTV star Bryan Baeumler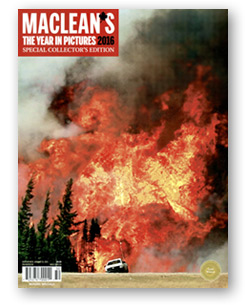 This Maclean's issue also contains many remarkable pictures of 2016, such as Fort McMurray's fire, Tragically Hip's Gord Downie, Raptor's playoff, and Usain Bolt vs. Andre De Grasse. It's on sale until January 31, 2017.