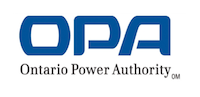 The final part of this case study on Canada's largest solar rooftop focuses on the Ontario Feed-In Tariff program application. We look at how LoyaltyOne got their FIT program approval to become the first system to feed the Ontario power grid.
The Feed-In Tariff application for LoyaltyOne's pioneering renewable energy system was submitted in November 2009 and received approval in April 2010. While the processing time of six months could be shorter, it should be noted that LoyaltyOne's application is one of the first—perhaps the first—in Ontario Power Authority's system. One might suspect that subsequent applications are processed quicker. If you have more recent experience, please share that with us by leaving a comment below.
RESCo Energy is the main contractor of the system. Kevin Monsour, Vice President of Partner Development at RESCo, is satisfied with the FIT program. While some delays were experienced, he also noticed improvements as OPA tries to speed up the process. All of RESCo's projects were approved so far. If there is a point on potential improvement, Monsour thinks the key to success is in certainty. 'It could help if we can have more certainty on the application, such as how long it would take to get approval, the payment rate, and timing of the steps involved. But overall, we are very happy with the program.'
LoyaltyOne is also very satisfied with their project. 'While there were some initial installation challenges, they have been successfully worked out,' said Janine Reaburn, Associate Director of Facilities at LoyaltyOne. 'Our contract with the Ontario Power Authority is running smoothly. The solar panel project produces enough electricity to power sixteen average size homes.'
Recapping the highlights:
LoyaltyOne's solar rooftop in Mississauga became operational in early 2010.
The FIT application was approved in April 2010, it is the first system that feeds electricity into the power grid under the program.
The system consists of 711 Sanyo photovoltaic solar panels and 4 thermal solar panels on the roof of a 50,000 square foot call centre. The inverters are SMA Solar Technology Sunny Boy.
System nameplate capacity: 165 kW
Startup costs: $1.85 million
Operating costs: $3,000 to $5,000 per year
FIT payment rate: $0.713 per kWh
FIT income per year: $128,776 per year (estimated)
Payback period: 10 years (estimated)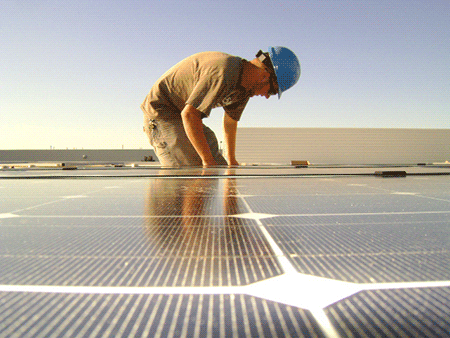 As I predicted in Part One, the title of Canada's largest solar rooftop may not rest with LoyaltyOne much longer. And as I close off this case study, it appears we may have a new title holder.
A new solar rooftop in Tecumseh, Ontario is about to be launched. It is not just larger than LoyaltyOne's system, it appears to be three times the size, with three times the number of panels and power capacity! I am investigating the details of this new mega system … stay tuned.
Full Case Study: Part One, Part Two, Part Three, Part Four
Photos courtesy of RESCo Energy.